The Benefits of Remote Hiring
Unleash the Power of Remote Hiring?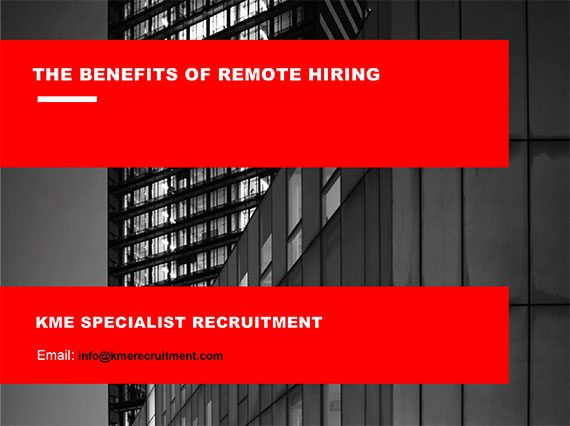 To download your copy of the Benefits of Remote Hiring simply complete the form for instant download.
The prevalence of remote work has undeniably reshaped the contemporary job market, becoming a lasting and influential aspect.
For a recruitment manager, it is crucial to acknowledge the evolving nature of work and tailor recruitment processes to meet the demands of remote work arrangements, focusing on enhancing the client experience.
This guide delves into the substantial impact of remote work on the recruitment process, offering invaluable insights into the significant benefits and downsides, the cost savings and improved retention, and opening up a wider talent pool.
In recent years, remote work has gained increasing prominence, a trend further accelerated by the COVID-19 pandemic, solidifying it as a common practice. This shift presents advantages and challenges for employers and employees, underscoring the importance of understanding these intricacies for practical client-centric remote work arrangements.
Remote working is now the norm.
The world of work has transformed, with remote working emerging as the norm. In numerous surveys, most employees express a strong inclination towards remote or hybrid work arrangements, considering them a pivotal factor in evaluating any employment package.
The desire for flexibility has become so ingrained in the workforce that many existing employees vocalize their willingness to part ways with a company that does not prioritize or accommodate remote work. The demand for flexibility extends beyond a mere preference; it has evolved into a defining aspect of the modern professional experience.
Organizations that actively embrace and incorporate remote working into their operational structure are reaping the benefits of a more content and engaged workforce. The positive impact on employee satisfaction is palpable, translating into increased productivity and a heightened sense of well-being among team members. This shift towards remote work aligns with the evolving expectations of the workforce and positions companies as progressive and adaptable in the eyes of current and prospective employees.
Beyond the immediate advantages for individual employees, the broader embrace of remote working signifies a strategic move towards a more resilient and agile organizational model. Companies that integrate remote work into their culture often find themselves better equipped to attract and retain top talent, fostering a workplace environment that reflects the changing dynamics of the professional landscape.
In essence, the era of remote working is not merely a response to external circumstances; it is a paradigm shift in how we conceptualize and approach work. It is an acknowledgement of the evolving needs and expectations of the workforce, a testament to the adaptability of businesses, and a catalyst for a more harmonious and fulfilling professional experience for employees across diverse industries.
Benefits for Employer and Employee
Cost Savings
Increased Productivity
Flexibility
Wider Candidate Reach
Global Talent Pool
Reduced Commute Stress
Diverse Perspectives
Employee Retention
Technology Advancements
Environmental Impact
Operational Continuity
Customised Work Environments
Reduced Relocation Costs
Enhanced Work-Life Balance
Adaptability
Access to Specialized Skills
Time Zone Optimization
Reduced Office Politics
Continuous Learning Opportunities
These benefits highlight the potential advantages of remote hiring for employers and employees.
Your Complete Remote Hiring Guide
If you're a recruitment manager or in the process of hiring new staff.
The Benefits of Remote Hiring is an invaluable guide tailored to the demands of the contemporary recruitment landscape.
This comprehensive resource has been created with the intention of enhancing your understanding of remote recruitment and optimising your approach in a dynamic and evolving landscape. It will provide you with invaluable insights to ensure that you derive maximum advantages throughout the process. By delving into the nuances of remote recruitment, this resource aims to equip you with the knowledge and tools necessary to excel in this field. It is our hope that this resource will prove to be a valuable addition to your arsenal of skills and knowledge as you navigate the complexities of remote recruitment.
KME sourced the best candidate for us.
Michelle was a God-sent recruitment angel for our company.
Michelle understood my personal and organisational challenges as a director, was sympathetic and sourced the best candidates for us.
We only wanted one Service Manager; however, the quality of the candidates made us devise a new project scheme, and we ended up with two new Service Managers.
Michelle has gone beyond to ensure we had the best candidates. The candidates have now come on board and are delighted to work with us. Thank you so much, Michelle.'
Candidates were a great fit for our business.
"Michelle has been outstanding in supporting us to find three great Sales Development Representatives. She only put forward candidates that fully matched our brief, saving me valuable time sifting through unsuitable CVs, and all candidates were also an excellent fit for our business.
She was fantastic at communicating openly throughout the recruitment process and ensured that all stages ran smoothly, including the onboarding process.
I cannot recommend Michelle and KME highly enough; you will not be disappointed with their professional, friendly and efficient service."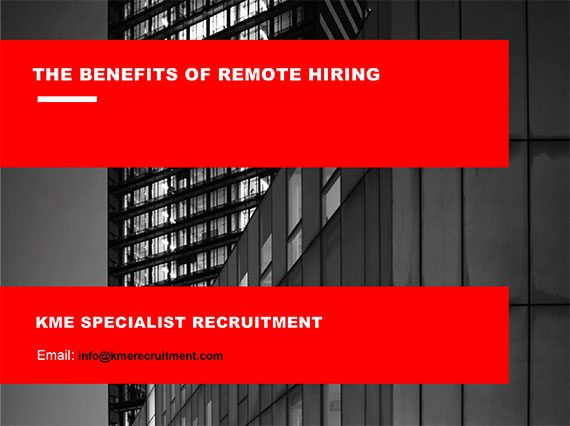 To download your copy of the Benefits of Remote Hiring simply complete the form for instant download.
"*" indicates required fields
Award-Winning Sales Recruiters