KME Specialist Recruitment is a niche sales Recruitment Agency based in Exeter in the South West. We place high calibre Sales candidates across all industries throughout the UK
You won't just be one of a number; you'll be number one!
KME Specialist Recruitment is a niche sales Recruitment Agency. Based in Exeter in the South West, this does not restrict us from placing high calibre Sales candidates across all industries throughout the UK.
Experts
We understand the sales market and pride ourselves on our up-to-date, expert knowledge. We have many years of experience within the Sales and Recruitment markets; hence, we know what makes a great sales professional and the importance  the role plays within any company.
We can advise our clients and candidates on role salaries. We can also provide our clients with independent and honest advice on job offerings and whether they will attract the right calibre of candidate.
Higher Retention Rate
All candidates are screened extensively, not just on experience and qualifications but also on other criteria such as preferred management style, company culture, personality, etc. This ensures a good 'fit' the first time around and thus increased retention rates.
Fewer, yet quality CVs, saving time and money
We may send our clients fewer CV's than other Agencies, as we will only put forward quality candidates that are a good fit for the vacancy. Saving companies time sifting through CV's to decipher the best of the bunch and also saving time throughout the interview process. In the long run, this will also save clients' money as the recruitment process is a lot shorter and retention rates are higher.
Personal, Bespoke Service
As an independent agency, we can treat all of our candidates and clients on their own merits and provide a bespoke, personal service. We appreciate all the nuances that both parties face and can have more profound, more meaningful conversations than they would have with a Generalist Recruiter and better understand their requirements.
Clients and candidates are allocated a dedicated Consultant ensuring both parties are supported fully throughout the recruitment process. This Consultant will be their single point of contact and negate the need for time-consuming conversations with other team members.
Having experienced both sides of the Recruitment process as a client and candidate, we appreciate the importance of providing an excellent candidate and client experience involving professional, communicative, honest and open recruitment. We understand the importance of receiving excellent customer service for both parties and pride ourselves on our supremely professional service.  If we say we'll ring you back at a particular time, then we will! There will be no false promises.
Our Consultants will spend as much time as necessary to understand the needs of each client we work with and each candidate that we support. We will do this by asking the right questions and listening to the needs of both parties before commencing the search process. This enables us to market roles professionally and source and place the best Sales candidates. We fully brief all candidates on the positions and the client before pursuing their interest and aiding the retention of recruits as there are no unpleasant surprises.
Best Representation and Identification of Talent
As a niche sales Recruiter, we are experts in the field and instantly recognise talent within the Sales arena. We attract some of the best sales candidates on the market as individuals trust us to represent them in the best, most truthful light. We know what makes a good candidate and client.
We are the only Recruitment Agency that provides a complete sales package. We offer this unique proposition to our clients, which includes not only recruitment but also Sales Training, Sales Audits, Role and Candidate Profiling, Sales Consultancy and even an Interim Sales Director. This assists sales efficiency and growth, and therefore our clients perform at maximum profitability and generate maximum revenue. Further information can be found on our Clients Page.
KME Recruitment prides itself on this, and we are continually looking for ways to offer additional services that we feel will benefit our clients and candidates.
Award-Winning Sales Recruiters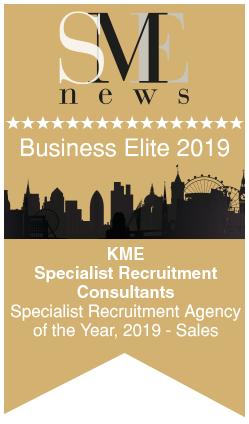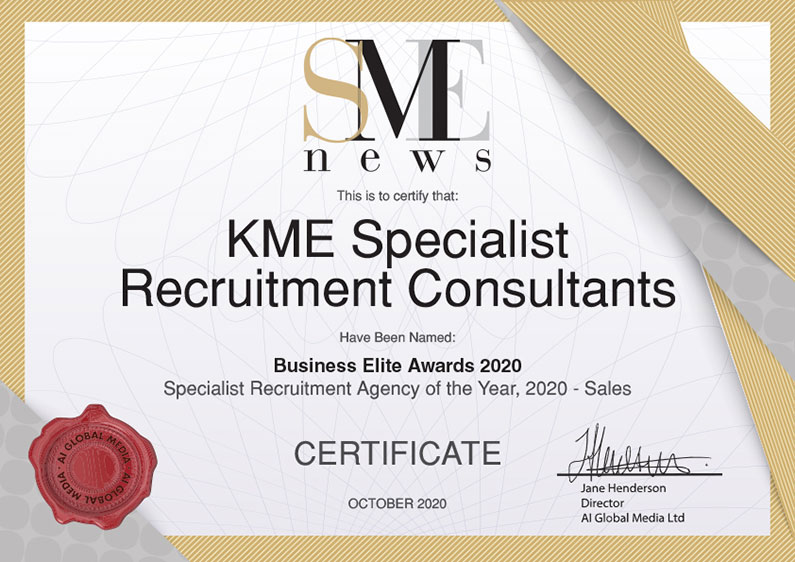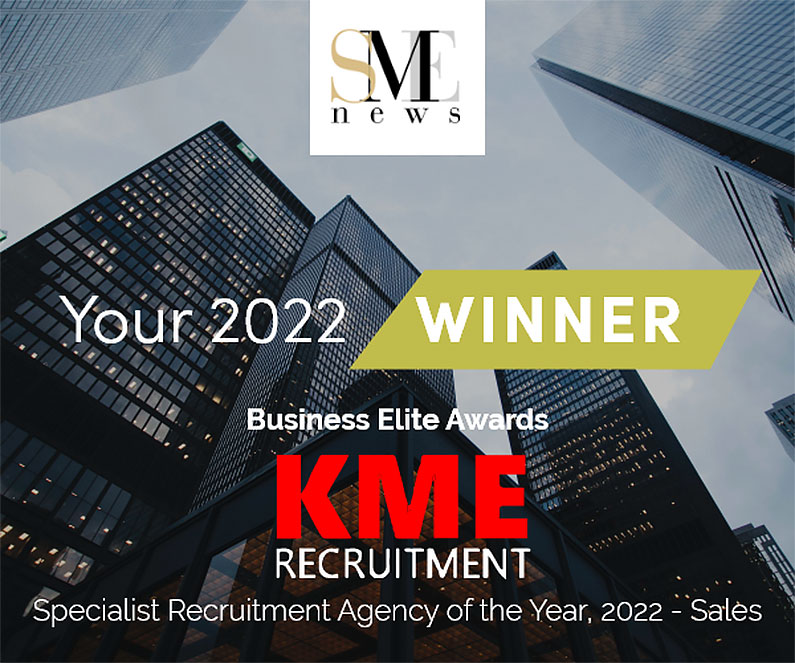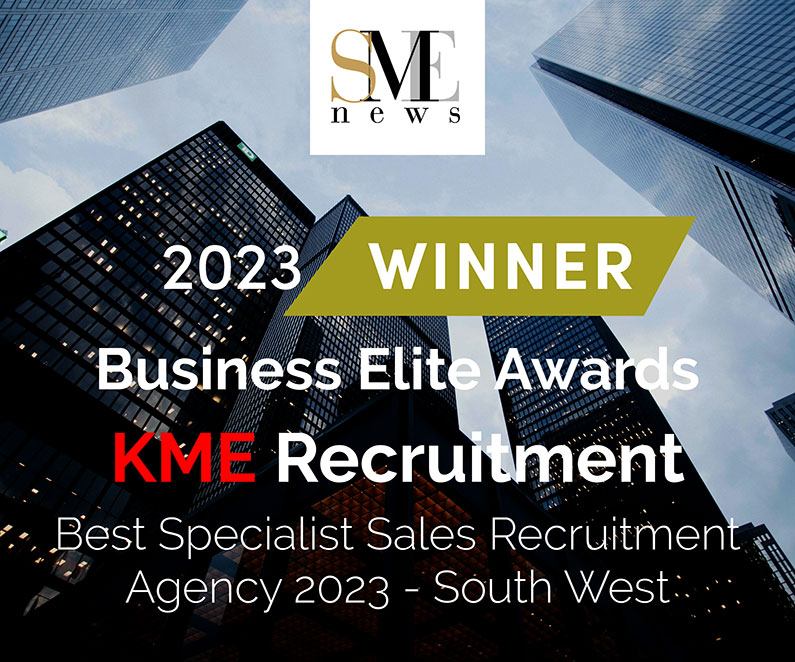 We also run a Linkedin page called KME Sales Community where we offer advice, support and networking for salespeople and entrepreneurs across the globe.